Ovo's StudyHub feature is a cloud-based service that connects Ovo Logger ADC 2.0 PCs with remote participants and observers so they can share methodological data. Using StudyHub:
Remote observers may log notes.
Scenario materials and questionnaires may be presented to remote Participants. See the StudyHub for Participants page for details.
All data are configured and stored on the Ovo Logger PC at your company's facility.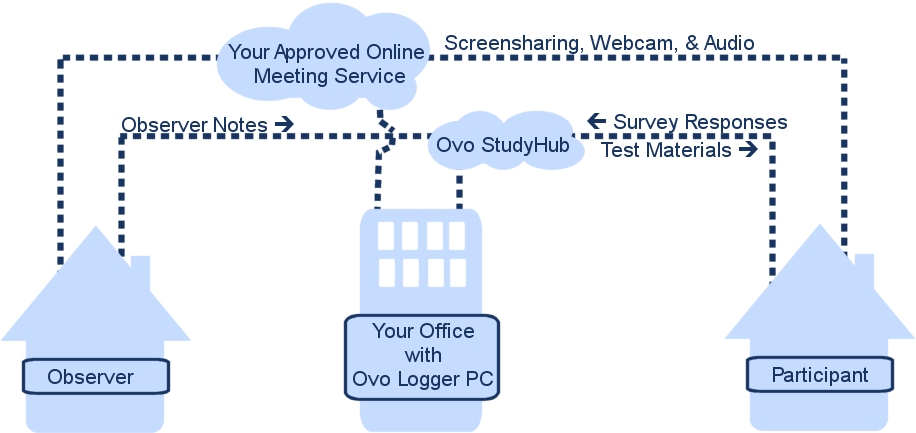 The StudyHub feature is a data conduit between clients in a GUID-protected online session. This connection is accomplished as follows:
The moderator at the Ovo Logger PC runs Ovo Logger and opens the database for the study.
The moderator open the StudyHub dialog box within Ovo Logger and logs into the cloud-based StudyHub server.
After successful login the StudyHub session is initialized.
At this point, the participant may connect to the study using a custom URL.
Observers, if any, may log in using another custom URL
The StudyHub page for observers is presented below.
Note Taking for Remote Observers
Observers can connect to StudyHub using a custom URL. Using that page, observers can take notes and view notes that other people are taking.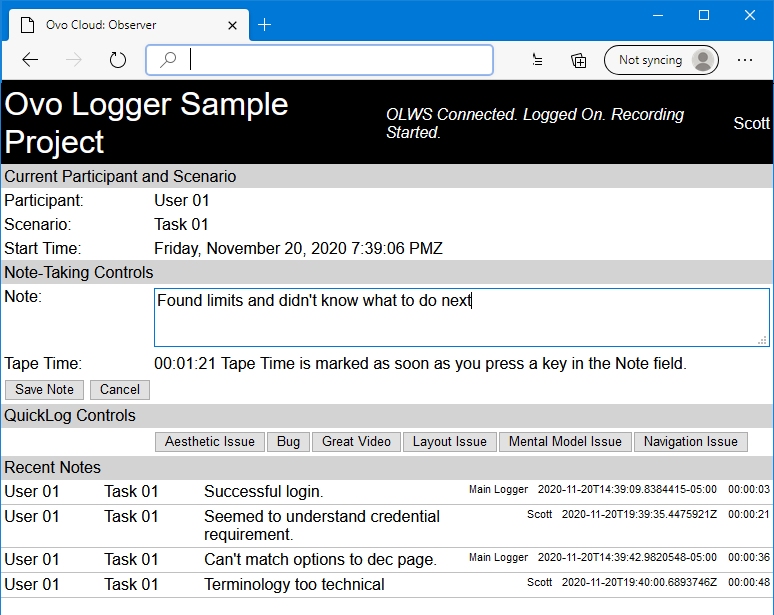 When the study is complete, notes from all observers are included in the Ovo Logger ADC 2.0 HTML report. In the sample report there are two observers: "Scott" and "Main Logger." Scott logged using the StudyHub feature and Main Logger took notes at the Ovo Logger PC.