Ovo Studios Fixed Usability Labs utilize a modular A/V design with a flexible video topography. This means you can support several kind of to-be-tested product simply by adding an input that is customized to your product hardware. All of our Fixed UX Lab solutions use the Ovo Logger ADC 2.0 software as their data and video recording hub.

Your lab might have three rooms, as shown in the schematics below, or it might only have two rooms, i.e., a Participant Room and a Control Room. Either type of floor plan is perfectly acceptable for a lab. In the schematics that follow, it should be apparent how modular the Observation Room is.
Usability Labs for Software and Websites
If it runs on a computer screen, you can test it in an Ovo Lab — Ovo's software usability customers test everything from 3-D modeling software to financial analysis platforms to ecommerce systems. They test websites, thick desktop applications, middleware, and operating systems. If it happens on screen with a mouse and a keyboard -- regardless of operating system -- the Ovo software usability lab solution is for you.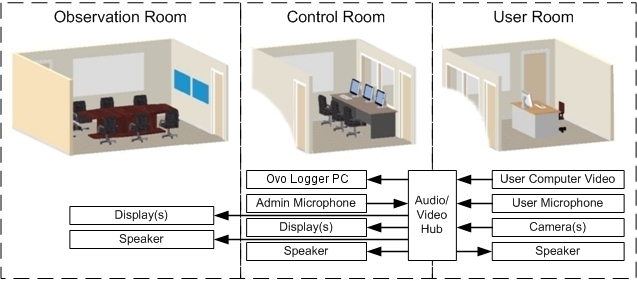 Usability Labs for Mobile
Real Time Observation Without Peeking Over Shoulders — Mobile UX research is essential to understanding how customers use your products on the go. Building on the foundation of our Software Testing Labs, Ovo Studios has designed research labs for mobile device manufacturers and wireless service providers around the world. Whether you are working with mobile phones or tablets, Ovo understands the constraints involved in this testing and can ensure your research team has the best possible research experience.
Note the AV element highlighted in blue. By adding this input to a UX Lab for Software and Websites, you could have a lab that supports software, websites, and mobile devices.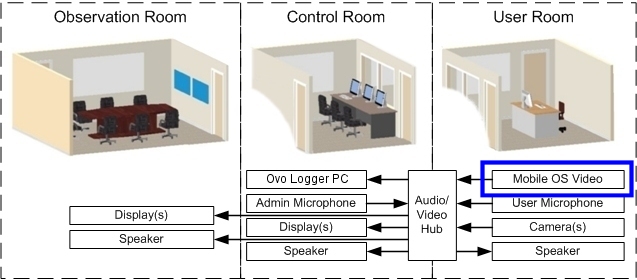 Usability Labs for Medical Devices
Tethered equipment deployed into a surgical suite — Ovo's Medical Device labs are created to have a compact, unobtrusive design for use in any medical or clinical environment. We can employ small form-factor cameras, rollable hardware racks, and shielded cabling to meet your test team's rigorous standards.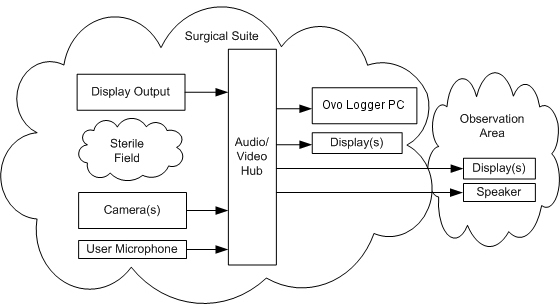 Usability Labs for Play Testing
Multi-player, collaborative, 2nd screen, PC or console — Ovo Studios builds state-of-the-art playtesting facility with distributed, enterprise-level capture and analysis systems. Ovo has perfected the playtesting facility in collaboration with some of the top gaming studios in the world. Our solutions allow for testing console, PC, mobile, online, and 2nd-screen gaming experiences. We can handle multiplayer environments, either solo or collaborative. We understand the gaming space and how testing methodologies are different than for traditional software testing.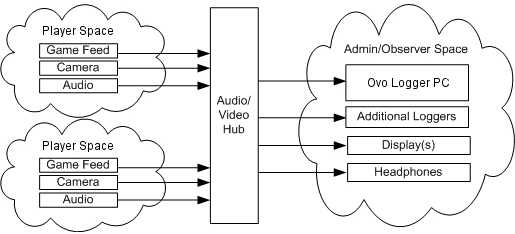 How Much Does a Usability Lab Cost?
This is like asking, "How much does a house cost?", but here is a cocktail napkin sketch of scope and costs:
For A/V scope, start with the schematic in the UX Labs for Software and Websites section, above.

Delete the Observation Room for purposes of this discussion.
In the User Room, "Camera(s)" refers to two cameras.
With that, the boxes and arrows for the User Room and the Control Room are sufficient for this level of analysis.

Includes a one year license of Ovo Logger ADC 2.0 with 2-source recording, software maintenance, and technical support.
Includes an A/V infrastructure installed and trained at your facility.
Basic Budget: <≈$70,000 + applicable sales tax.
A Suggestion: Do not use $70,000 for your budget request. Instead, click the blue button below and let's talk about your plans.
Contact Ovo for a Precise Budget