Lightweight. Flexible. Simple. Ovo believes portable means you can carry it with you whether traveling by car or plane. Setup takes less than 15 minutes.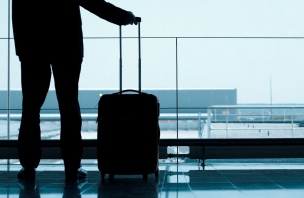 Portable Usability Lab Feature Overview
Ovo Portable Usability Labs running Ovo Logger ADC 2.0 software have all the video and data capabilities of Ovo Usability Labs, but optimized for travel and with A/V bandwidth limited by the USB bus of a laptop computer.
Flexible Recording: You can record your video inputs as separate files or as a single merged file using a video effect like picture-in-picture. If you record them as separate files, highlights can be made using video effects that combine the source videos for that highlight while leaving the original videos untouched. Additionally:
Recorded video can be used immediately -- no post-processing required.
Video can be shared without needing a proprietary video player.
Flexible UX Testing: You can test software, websites, and hardware. You can also conduct focus groups or seated interviews. See the Portable UX Lab Setup Schematics section, below, for examples.
Easy Setup and Teardown: Ovo Portable UX Labs can be set up in under 15 minutes.
Bring-your-own Participant Computer : Ovo Portable UX Labs are agnostic regarding Participant computer OS and nothing needs to be loaded onto the participant computer. As a result, there is no performance degradation of your to-be-tested software and there are no conflicts in drivers or resources. All Ovo needs from the Participant computer is an HDMI output like you would connect to a projector.
Ovo Logger Freeware may be installed on your "personal" work computer to work with video and data after your research activity is complete. This keeps the Portable Lab's Ovo Logger PC free for continuous research.
Full Support: Ovo Tech Support is committed to supporting our clients who are in the field. There's virtually nothing our staff cannot diagnose and fix remotely.
Portable UX Lab Setup Schematics
In-person software usability study: Setting up for a software usability test requires a table and probably takes less than 15 minutes.
Plug a USB capture device into the Ovo Logger PC.
Connect the HDMI output of the participant computer to the capture device using an HDMI cable.
Plug a webcam into the Ovo Logger PC.
Start up Ovo Logger and you are ready to go.

In-person mobile device usability study, interview, or group activity: Setting up for these activites simply requires connecting two webcams to the Ovo Logger PC. For a mobile study, one of them could be a "sled-type" camera.

Remote participant software study: Setup is just like for a study with an in-person participant. Host a web meeting on the Participant PC and use the webcam as a microphone to record the meeting audio that is coming out of the speakers of the Participant PC.

What's Included in an Ovo Portable UX Lab?
An Ovo Portable UX Lab includes the following kit of equipment, but almost any item listed below can be modified to meet your specific needs.
A notebook computer running Windows 10 Pro and with an Intel CPU with QuickSync.
A one year license of Ovo Logger ADC 2.0 with 2-source recording, software maintenance, and technical support.
HDMI capture hardware with HDMI cable.
Two webcams.
A single online training session.
UPS Ground shipping within the continental USA.
The participant PC is not included. "Participant PC" refers to the computer on the righthand side of any 2-computer configuration graphic above. A Participant PC may be included at additional cost.
Budget: ≈$15,000 + applicable sales tax
---
Content after this is likely to be eliminated from this page
---
The video samples on this page reflect 2-source Ovo's Independent Recording. In independent recording, each input is recorded input into its own .MP4 file — no post-processing required. Independent Recording lets you decide whether or not to mix videos after the test is complete.
Source 1 of 2: User PC Screen
This recording is from a hard-wired HDMI feed from the participant's PC. Since Ovo records from HDMI (or DVI-D or Display Port) Ovo can record the desktop of any operating system.
Source #2 of 2: Camera Shot of User's Face
Ovo Portable UX Labs rely on HD USB cameras for maximum portability.
Video Highlight
A highlight clip (from about the 50-second mark in the above source files) combines the two source videos using a picture-in-picture layout with a slight transparency effect on the face insert. Source files remain untouched.